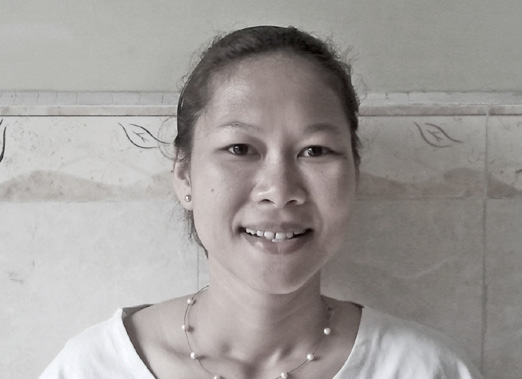 DTS STaff, Healthcare and Evangelism
Srey Pov has been working with University of the Nations (UofN) for 3 years. She plays an integral role in discipling students at UofN's Disciple Training School. She is also working in UofN's Women at Risk Ministry (Punlue Jivet) team to transform the broken lives of many women in Cambodia. Passionate about giving hope to the hopeless, Srey Pov strives to live out her calling to share God's love with those in need in Cambodia.
In order for Srey Pov to continue her work as a volunteer in DTS and the Punlue Jivet Ministry, she'll need your help! You can support Srey Pov by partnering with her in prayer and becoming her sponsor.
Here is a short testimony from her:
Hello! My name is Srey Pov.
I am Cambodian.
It's more than three years that I have been working with Youth with a Mission. Being a DTS staff I have had the privilege to see God changing students lives and also my own.
One of the students I led, Srey Nich,  was quite shy at the beginning of the school from some bad experiences in childhood. Even up until Outreach, I was worried because of her silent character. My fellow staff, Tam, and I challenged and encouragement her to interact with the other team members.
At the end of Outreach, I could see God bring breakthrough her timidity. She started to talk with young people and older people a lot. She could lead the kids club, and even lead bible teaching to a group of young people. I can see her faith grow a lot in God.
We know that nothing is impossible with God from Luke 1: 37. This verse was a wakeup call to help me focus on Jesus no matter what.
Now I have started helping with the Health Care and Women-at-Risk ministry. Every afternoon, Antonia and I bring tea and some little snack to the patients at the Russian hospital. We have time to tell them the gospel, encouraging them, and pray and worship with them. I really want to see people get healed, not only in their body but in their soul and spirit. By encouraging them in their sickness, I hope to bring Jesus' love and light into their life.
At Women-at-Risk, my desire is to bring hope and restoration to these Sex Trafficked Girls through showing God's love. Every Thursday evening we go to invite the prostitutes to have meal and study the bible with us. One a week I went to Wat Phnom where the prostitutes stay. I prayed that God will break the stronghold of bondage there. These ministries are never easy, but I pray that God will help me to bring life to these people.
Prayer Requests:
For my health
For wisdom and strength
For God to give be Courage
---
---