Home
Youth Development Centers (YDC)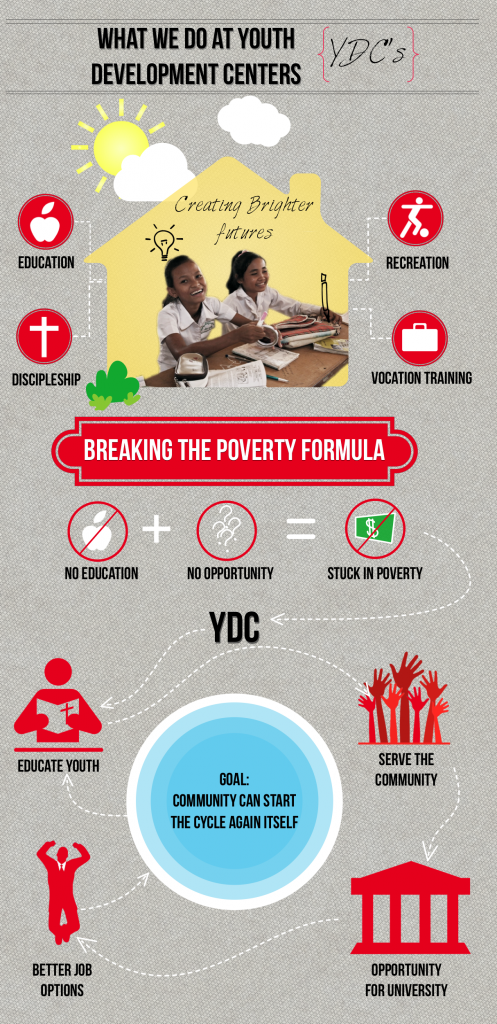 Our Mission
As you can see from the infograph above, we want to transform the lives of children and their families in Cambodia through education. This ensures a brighter future for them, their communities and their nation. 
What our centers offer:
Education
Free Classes: All centers provide free English classes. Some centers also provide maths, computer studies, Khmer and Korean language lessons too! Some centers give graduation certificates endorsed by the Ministry of Education for their English programs.
School Fees: Assistance in covering school fees is given to some students enabling them to attend public school. This includes school uniforms, stationary, books and any additional fees.
Tutoring: Several centers include tutoring in small groups where students receive one-to-one attention. This is often lacking in public schools where classes have 40-50 students per teacher.
Youth Gatherings/Kids Club: Using the Bible as the foundation, students learn about topics such as good morals, self-confidence, dignity and values through fun games and story-telling.
Workshops and seminars: These are held on various topics such as preparing for job interviews, being a leader and how to contribute to positive development. Some centers also meet the parents once a month to teach about the importance of education and encourage them to celebrate their child's progress and achievements.
Scholarships: we provide scholarships for some students who show high potential and commitment to attend university. This will allow them to be better equipped for future employment. They are encouraged to return back to help develop their home communities.
Christ-Centered Environment
Gospel Teaching: opportunity to learn about the Gospel, experience God's love and be challenged to live out their faith in everyday life.
Small Groups: in some centers, both boys and girls are part of small groups where they can discuss personal issues in a confidential and safe environment.
Service: Students engage in community service activities and some older students volunteer to teach in the children's classes, allowing them to play a role in the transformation of their communities.
Extra-Curricular Activities 
Sports: some centers hold soccer and other sports training sessions. They allow students to compete in tournaments to develop them physically, teach them discipline and how to play fair.
Field Trips: some centers will organize field trips for students to explore the country and learn from their experiences.
Additional Provision
Income Generation Activities: A few centers are exploring microenterprise activities to provide vocational training and employment opportunities.
YDC Locations