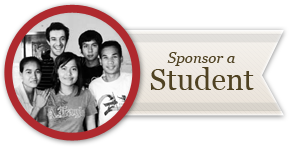 M

ake a difference in Cambodia by investing in it's future through our many students. It can be hard for the students we minister to in our YDC's to afford to go to University or get vocational training. Tuition can be from $350 to $500 USD a year, not including living expenses.
Interested in helping out?
For $110 a month, you can Help these students continue in their education to help promote change in Cambodia. Become a Sponsor to give 1/2 ($55) or fully support one or more students through college and vocational training.
You can become a sponsor by going to the donate page, or by filling out the form to the right.